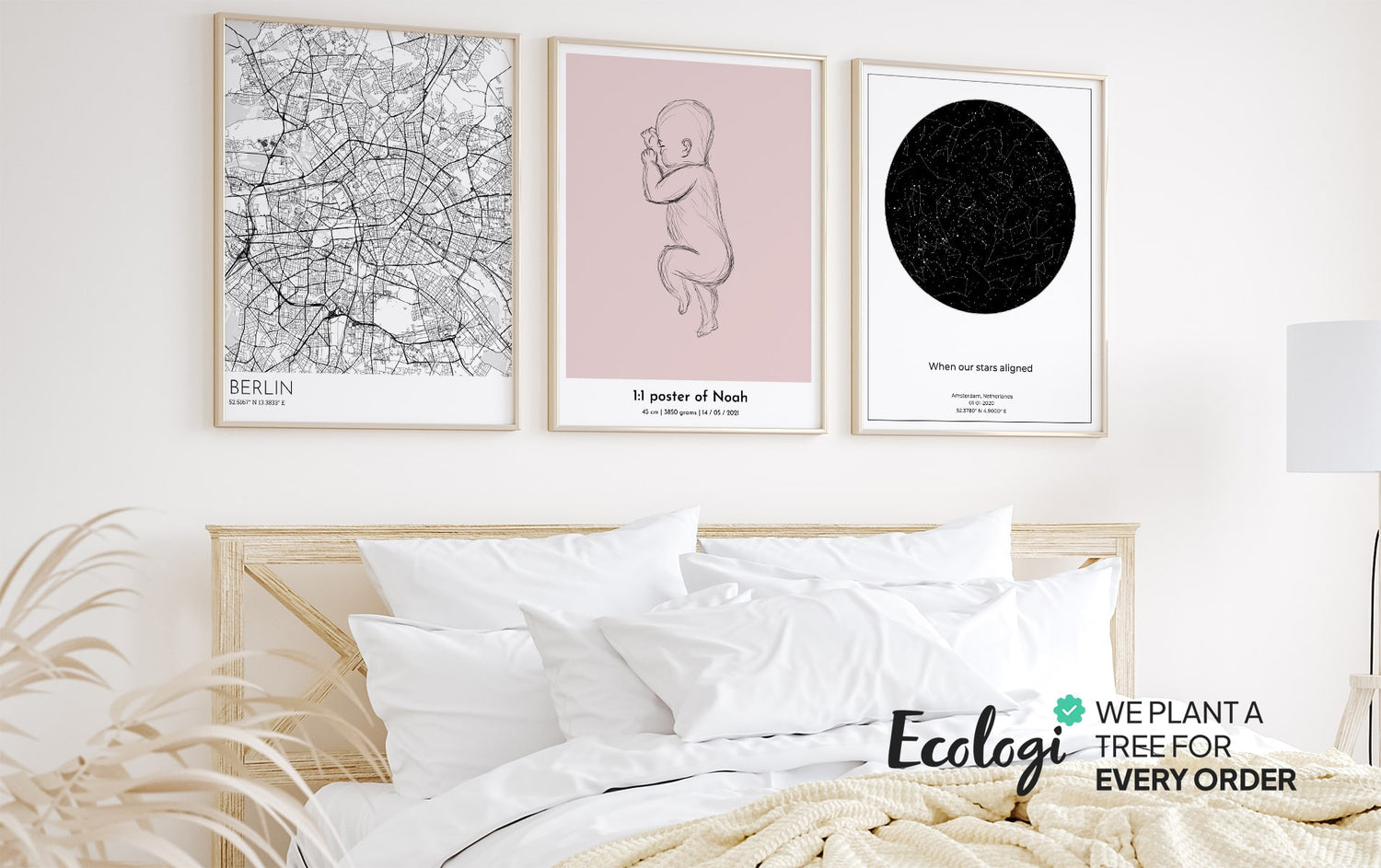 Customizable gifts that actually look good
Look back at memorable places, wonderful moments and the start of new chapters with personalised prints produced to the highest quality standards. The perfect gift for someone else or yourself!
Shop now
Free shipping in 4-5 days
On orders above €40
Leading quality
FSC-certified materials to ensure maximum quality
100% money back guarantee
Not happy with the final result? Full refund guaranteed.
Rated 4.8/5.0
Customer satisfaction is our #1 priority
About us
Our mission

We're deep believers in celebrating moments, milestones and achievements. We also think they deserve to last forever, which is exactly what happens when you preserve them with our customized wall prints. Whether it's a gift for a loved one or a well-deserved treat to yourself, we're dedicated to making that moment as special as possible.

Sustainability

We create prints that last a lifetime by using high-quality, FSC-certified paper and incredibly strong plexiglass frames designed to survive all the knocks and bumps of daily life. To further reduce our carbon footprint, we work with local printing partners in 33 countries and reduce delivery emissions by up to 65%. We also plant a tree for every order together with our sustainability partner Ecologi.
Trusted by customers all over the world
We're incredibly proud of every gleaming review received from our ever-growing customer base!
Get inspired by others #studioeverlasting
Why customised gifts?
Some moments in life deserve to have a place not only in the heart, but also somewhere in our homes. After all, nothing makes a house more of a home than adding a personal touch. And what could be more personal than, say, a birth poster, or wall art of your favourite city? These kinds of personalized gifts are great to receive and, of course, to give. A personalized gift is an expression of appreciation, a unique connection between the receiver and the giver. It's giving someone something really special that has obviously had a lot of thought.

A customised gift is a unique and thoughtful way to give someone a gift. Whether you are celebrating a birthday, birth, wedding or other special occasion - a personalised gift is guaranteed to put a smile on someone's face. Plus, you have the freedom to decide the design yourself. Think about the size, colours and font. This allows you to create something that perfectly matches the recipient's interior. So in case you are wondering why you should give a personalised gift, the answer is simple! A custom-made gift is the ultimate token of appreciation to another person.
The perfect gift
Finding a suitable present for your loved one, friends or family members is sometimes quite a challenge. Each individual is unique and sometimes you want to come up with a special gift. It is therefore a great idea to immortalise the events that make life so colourful - such as a birth or a visit to a city that still holds warm memories.

In short, are you looking for an original and personalised gift for your family or friends? Then look no further! At Studio Everlasting, you will find the perfect solution: custom-made personalised gifts. This will introduce an eye-catcher to any interior. You can choose from:
- Street Map Posters: There are many cities we have fond memories of. Hang the map of your favourite on the wall and wander through those quaint streets again.
- Star Map Posters: There's a story in the stars! Pick any moment in the past or the future and see the exact night sky from any given location on earth!

- Zodiac Sign Posters: They tell us a lot about ourselves and also look great on the wall: zodiac sign prints! Available in many designs and colours.

- Baby Art Posters: How much fun is it to hang a 1:1 sketch of your little one in the nursery? Including name, height, weight and date of birth.
Fun for everyone
Whether you are looking for a personalised gift for your partner, a friend, a family member or for a baby: you will certainly succeed with these fun gifts. Surprise your partner with a poster of the city where you met, make your mother happy with a poster of her star sign or enrich the baby's room with a birth poster. Everyone loves to receive a personalised gift!
Gift ideas
Wondering what occasions personalised gifts are suitable for? A Street Map Poster is a very nice idea for friends who have moved house, for your partner on Valentine's Day or on the day you celebrate another year together, or for someone who has many fond memories of the (foreign) city he or she once studied in, for example.
Zodiac Sign Posters and Star Map Posters are a great option for people who are interested in astrology or otherwise enjoy spiritual experiences and inspiration. And of course, birth posters are perfect as maternity gifts, but also a fantastic option for your own home when you have welcomed a little sprout. A Baby Art Poster could be thought of as a combination of a portrait and the birth card - full-size of the baby!
Send someone a personalized gift
Sometimes, unfortunately, you can't be there when someone celebrates a special moment. However, this doesn't mean you can't delight them with a gift created by you! A personal present, conceived and crafted by you is a wonderful gift when it arrives at the recipient's home as a surprise. All you have to do is create the design and enter the recipient's delivery address at checkout, and the gift will be delivered on time.
How does it work?
Select a product and start the design process. Choose a design, a size, a colour scheme and add other personalised elements to create a unique piece of art. You can then checkout the order, after which you will receive an order confirmation with a track & trace code to keep an eye on the status. On average, an order is delivered after three to four working days.

All prints are printed on premium, FSC-certified paper with eco-friendly inks. Vivid colours and razor-sharp details ensure that your poster will stay like new for years. The prints use 200mg semi-gloss paper and lightweight, 1-2cm thick plexiglass frames. So the recipient will enjoy the personalised gift for many years to come!
Eco-friendly production and delivery
For a small carbon footprint, we print in 33 countries to minimise transport distance. Also, together with Ecologi, a tree is planted for every order! In addition, FSC-certified materials are used - the most circular materials available on the market. FSC is committed to restoring and protecting forests. Purchasing these materials gives forest owners the means to manage forests sustainably. So by ordering your personalised gifts from Studio Everlasting, you are doing your bit for a circular economy.